· Levels - Mixes - Smoothens
· Leveling Implement "Locks into position to guarantee leveling takes place"
· Cuts High Areas and Fills Low Areas
· Maintains Safer Playing Surface
· Breaks up hard infields
· Deters Water Puddling
· Controls weeds
· Works on all infield materials
· Reduces Need for Hand Raking
· Heavy Duty Steel Construction
· Powder Coated finish
· Pull with variety of towing machines
· Capable of High Speed Grooming
· No tools needed to adjust engineering
· Built Like a Tank!
· Easy to Use
· Affordable
· Saves Labor
What is standard equipment on the All Star AS72?
Photo above shows standard parts, Each AS72 machine includes, as standard equipment,
Adjustable Tongue and Hitch Combo, Welded Frame with No-Air, No-Flat Wheels (never need air), LevelFlo1 Leveling Implement
and the Rear Smoothing Broom.
THEN....you choose an "Operator Lift Control System".
So to order: First choose a Model Number (example AS72-WR) then choose any optional accessories / attachments you want to add to the machine.
Each Model number represents a specific lift control system and they all include the same "standard equipment".
Below ("Factory Direct" pricing) are the different model numbers.
All Star Infield Groomer AS72. Tongue Towed.
Optional Attachments Available.
Helping Those Who Help Others Play!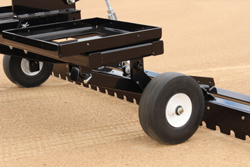 Restore & Maintain Infields Quickly and Easily.
Levels, Smoothens, Mixes, and Breaks up Hard Infields (with optional scarifiers).
All Star Groomer AS72
The 6 ft. wide All Star is a great choice for those with a limited budget but still want well maintained infields.
A quality machine at a small budget price.
Yes, it will level your infields and keep them level!
Reduces sliding injuries, prevents water puddling, and helps control weeds.
6 choices of "operator lift control systems" (manual & electric). Easily adjusts to different towing machines. .

Floating implements don't actually "level", instead they mimic the surface they travel over. They simply ride over the high areas
and sink into low areas without fixing them. The All Star Groomer Leveling Implement locks into an
optimal "leveling-grading" position for proper leveling. It doesn't float. Cuts off high spots, mixes and
carries the material along, then drops it into low areas where it's needed. The leveler is followed by our
exclusive 2-Brush Finishing Broom which produces a fine finish to the grooming process.
Don't miss our Complete Catalog (link at the top of page). Most complete catalogs on the market!
Home Infields Sports Turf Golf Driveways-Yards Parts Contact Us

Heying Company Phone: 712.756.8847 Fax: 712.756.8849
Mailing Address: 515 6th Ave. Alton, Iowa 51003
Manufacturing Address: 101 Tenth St. Alton, Iowa 51003
Grooming Equipment for Infields, Turf, Driveways, and More.
Proudly Made in the USA
We Respect Customer Privacy. Any information provided is used solely for internal purposes and is never sold, shared, or traded.
Heying Company Alton, Iowa 51003 USA Copyright (c) Heying Enterprises, All Rights Reserved
.
Infield Groomers - Synthetic & Natural Turf Groomers - Golf Green Groomers - Driveway Groomers Manufactured Here! Made in USA